October 9th, 2006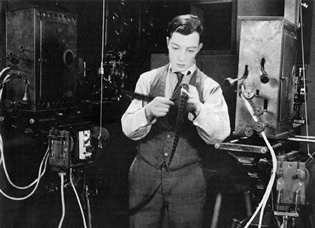 Here's a link to download the classic silent comedy: Sherlock Jr. (1924). Unfortunately, Internet Archive doesn't give you the option to stream this movie, and the download file is a whopping 700MB.
That said, this is one of Buster Keaton's best films. At 44 minutes, its length is somewhere between a short and a feature, though the intricacy of the gags and surreal jabs at cinematic conventions (a sleeping Keaton walks into a movie screen and joins a parallel story) make this one of the finest comedies ever made — silent or sound.
You can skip to the end and leave a comment. Pinging is currently not allowed.
RSS 2.0
Leave a comment
You must be logged in to post a comment.