August 3rd, 2006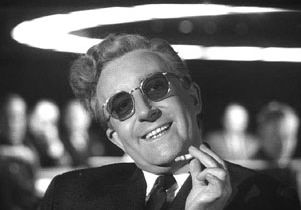 The longest-titled movie ever nominated for an Academy award is Dr. Strangelove or: How I Learned to Stop Worrying and Love the Bomb (1964). Though it's hardly the longest movie title ever. It's only number 129 on a list of the longest movie titles.
What's number one? That would be: Another Demonstration of the Cliff-Guibert Fire Horse Reel, Showing a Young Girl Coming from an Office, Detaching Hose, Running with It 60 Feet, and Playing a Stream, All Inside of 30 Seconds (1900). Apparently, the first demonstration didn't go over so well.
If you're interested in checking out the entire list, you can find it here.
You can skip to the end and leave a comment. Pinging is currently not allowed.
RSS 2.0
Leave a comment
You must be logged in to post a comment.